General Sir Ian Hamilton, Headquarters, MEF - The failure of the attacks at Helles on 12 & 13 July triggered another round of complaints from Hamilton as to his treatment by Kitchener and the War Office. As you read his complaints below remember that Lord French and the BEF were faced with a life or death struggle with the German Army on the Western Front. In April the Germans had nearly broken through at the Second Battle of Ypres and their use of gas and flamethrowers had shown that they were a deadly, unprincipled and resourceful opponent.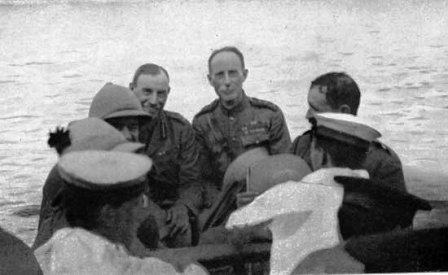 The British and French were gearing up for their autumn offensive, in which the British contribution was to be the Battle of Loos commencing 25 September 1915 - the original 'Big Push'. The shell shortage that had brought down Asquith's Liberal government was still a raw issue and had not been resolved.
"Imbros. The answer has come in from the War Office:- the answer, I mean, to mine of the day before yesterday in which it is suggested that if our rich brethren were off their feed for the moment, some crumbs of high explosive might be spared: "We have great difficulty in sending you the amounts of ammunition mentioned in our No. 5770, cipher, and even now the proportion of 18-pr. high explosive will be less than stated therein. In response, however, to your No. M.F. 444, we are adding 1,000 rounds 4.5-inch, 500 5-inch, 500 6-inch and 75 9.2-inch. It will be quite impossible to continue to send you ammunition at this rate, as we have reduced the supply to France in order to send what we have to you, and the amounts asked for in the second part of your telegram could not be spared without stopping all operations in France. This, of course, is out of the question."
Hamilton was livid at this reply, repeating the last two sentences to emphasise his disgust.
"This, of course, is out of the question." "Stopping all operations in France" is the very kernel of the question. If half the things we hear about the Bosche forces and our own are half true, we have no prospect of dealing any decisive blow in the West till next spring. And an indecisive blow is worse than no blow. But we can hold on there till all's blue. Now H.E. is offensive and shrapnel is defensive. I ought to attack at once; French mustn't. Therefore, we should be given, now, dollops of H.E. This talk does not come through my hat. Some of the best brains on the Western field are in touch with those of some of my following here. The winning post stares us in the face; my old Chief gallops off the course; how can I resist calling out? And then I get this "of course" cable (not written by K. I feel sure) which shows, if it shows anything, that "of course" we ought never to have come here at all! Simple, is it not? In war all is simple-that's why it's so complex. Never mind; my cable has not been wasted. We reckon the 1,100 extra rounds it has produced may save us 100 British casualties."
Hamilton goes on to discuss his daily doing and makes reference to the ongoing planning for August.
"Rode over to "K" Beach and inspected the 25th Casualty Clearing Station, Commandant Lieutenant-Colonel Mackenzie. Walked through the different hospital wards talking to some twenty officers and two hundred men; mostly medical cases. Did not think things at all up to the mark. Made special note of the lack of mosquito nets, beds, pyjamas and other comforts. For weeks past Jean has been toiling to get mosquito nets bought and made up, which was simple, and to get them out to us, which seems impossible. Too bad when so much money is being spent to see men lying on the ground in their thick cord breeches in this sweltering heat, a prey to flies and mosquitoes. Discussing the landing of the New Divisions in Suvla Bay and the diversion to be made by Legge on the right by storming Lone Pine, Birdwood makes it clear in a letter just to hand, that he has told his two Divisional Generals everything. I had not yet gone into some of these details with Hunter-Weston, Stopford or Bailloud, all Corps Commanders, for I am afraid of the news filtering down to the juniors and from them, in the mysterious way news does pass, to the rank and file of both services. Thence to the Turks is but a step. Were the Turks to get wind of our plan, there would be nothing for it but to change the whole thing, even now, at the eleventh hour. Lieutenant-Colonel F. G. Fuller, my late G.S.O. (1) in the Central Force, came over to lunch. He is now G.S.O. (2) of the 9th Corps. At 5.30 p.m. rode over to "K" Beach for the second time and inspected the Indian Brigade under Brigadier-General Cox. They had to be pulled out some time ago and given a rest. On parade were the 5th, 6th and 10th Gurkha Battalions with the 14th Sikhs. Walked down both lines and chatted with the British and Indian Officers. The men looked cheerful and much recovered. In the evening Charlie Burn, King's Messenger, and Captain Glyn came to dinner. Glyn has been sent out as a sort of emissary, but whether by K. or by the Intelligence or by the Admiralty neither Braithwaite nor I are quite able to understand."
Hamilton then returns to the subject of ammunition.
"Cabled the War Office insisting that the lack of ammunition is "disturbing." Also, that "half my anxieties would vanish" if only the Master-General of Ordnance would see to it himself that the fortnightly allowance could be despatched regularly. I could hardly put it stronger. Midnight: - Just back from G.S. tent with the latest. So far, so good. Bailloud and Hunter-Weston have carried two lines of Turkish trenches, an advance of two to four hundred yards. But the ammunition question has reached a crisis, and has become dangerous - very dangerous. On the whole Southern theatre of operations, counting shell in limbers and shell loaded in guns, we have 5,000 rounds of shrapnel. No high explosive - and fighting is still going on! Hi jaculis illi certant defendere saxis (translation from Virgil's Aeneid is:- 'These strive to defend with javelins those with stones.') To whomsoever of my ancestors bequeathed me my power of detachment deep salaams! How many much better men than myself would not close their eyes to-night with a battle on the balance and 5,000 rounds wherewith to fight it? But I shall sleep D.V.; (D.V. is the shortened form of the Latin words Deo Volente which translate to God Willing) I can't create shell by taking thought any more than Gouraud could retake the Haricot by not drinking his coffee."
SOURCE:
I. Hamilton, Gallipoli Diary, Vol. II, (London, Edward Arnold Ltd, 1920), pp.13-16