GALLIPOLI - Hamilton was eyewitness to the loss of the French transport steamer SS Carthage, which was sunk by the German submarine U-21 (Otto Hersing), whilst at anchor when 2nm off Cape Helles. There were no casualties but this showed the vulnerability of the fleet. On land the pressures of command and the never ending casualty toll began to show during a meeting with General Egerton.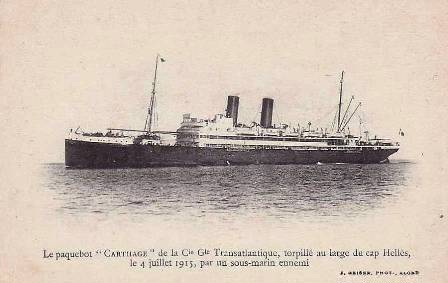 Photograph: SS Carthage which Hamilton witnessed sinking on 4 July

I find Sir Ian Hamilton's diary entry for 4 July interesting in so many ways. It illustrates the character of the man: his courage and determination. It also shows his reaction to any negativism shown in the attitude of Major General Granville Egerton commanding 52nd Division while introducing his battered battalions after their failure in the otherwise successful attack of 28 June. This dispute would get worse and Hamilton would temporarily dismiss Egerton for protesting at the treatment of his troops in the later July battles. Having read the entry for Major James Findlay of the 1/8th Scottish Rifles one might have more sympathy with Egerton's attitude. Optimism is no substiitute for sound planning and the deployment of sufficient troops and artillery to give a chance in action. Hamilton had failed the men of 52nd Division in all respects - and would do so again within a fortnight.

"Boarded HMS Basilisk (Lieutenant Fallowfield) and steamed to Helles. The Turks, inconsiderate as usual, were shelling Lancashire Landing as we got ashore. Every living soul had gone to ground. Strolled up the deserted road with an air of careless indifference, hopped casually over a huge splosh of fresh blood, and crossed to Hunter-Weston's Headquarters. Had I only been my simple self, I would have out-stripped the hare for swiftness, as it was, I, as C-in-C, had to play up to the dugouts. As Hunter-Weston and I were starting lunch, an orderly rushed in to say that a ship in harbour had been torpedoed. So we rushed out with our glasses and watched. She was a French transport, the Carthage, and she took exactly four minutes to sink. The destroyers and picket boats were round her as smart as flies settle on a lump of sugar, and there was no loss of life. Sad to see the old ship go down. I knew her well at Malta and Jean once came across in her from Tunis. At 2.30 General Bailloud, now commanding the French, came over to see me. When he had finished his business which he handles in so original a manner as to make it a recreation, I went off with Hunter-Weston and Staffs to see General Egerton of the Lowland Division. Egerton introduced me to Colonel Mudge, A.A.G., Major Maclean, D.A.A.G. (an old friend), Captain Tollemashe, G.S.O.3, and to his A.D.C., Lieutenant Laverton. We then went on and saw the 156th Brigade. Passed the time of day to a lot of the Officers and men. Among those whose names I remember were Colonel Pallin, acting Brigadier; Captain Girdwood, Brigade Major; Captain Law, Staff Captain; Colonel Peebles, 7th Royal Scots; Captain Sinclair, 4th Royal Scots; Lieutenant McClay, 8th Scottish Rifles. The last officer was one of the very few - I am not sure they did not say the only one - of his Battalion who went into the assault and returned untouched. The whole Brigade had attacked H.12 on the 28th ult. and lost a number of good men. The rank and file seemed very nice lads but - there was no mistaking it - they have been given a bad shake and many of them were down on their luck. As we came to each Battalion Headquarters we were told, 'These are the remnants of the ****!' - whatever the unit was. Three times was this remark repeated but the fourth time I had to express my firm opinion that in no case was the use of the word 'remnant' as applied to a fighting unit 'in being' an expression which authority should employ in the presence of the men. Re-embarked in HMS Basilisk and got back to Imbros fairly late."

"

SOURCE:
I. Hamilton, Gallipoli Diary, (London, Edward Arnold Ltd, 1920).