Gallipoli Caribou Memorial Progress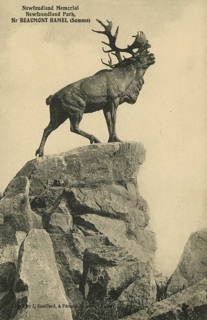 Work is progressing in Gallipoli with the construction of the Newfoundland Caribou Memorial. This is being erected near Hill 10 CWGC Cemetery at Suvla, where 12 members of the regiment are buried. Among them is Private Hugh McWhirter, the first Newfoundland Regiment soldier killed in the First World War.

We understand that the Newfoundland memorial will be the first Allied memorial erected on the Gallipoli battlefield since as far back as 1930 when the French cemetery was officially inaugurated. There are four other caribou statues on battlefields of France and Belgium, and one in Canada, that had been built to commemorate Newfoundland's contributions and sacrifices during the war. This will be the sixth.
When Britain entered the First World War on 4th August 1914, Newfoundland, which was then a British dominion, was suddenly at war, too. Proud of being part of the British Empire, the people's reaction to the news of this European war was met with great enthusiasm. One thousand men signed up to join the newly-created Newfoundland Regiment. After training in Britain during winter and spring of 1915, they soon found their way heading out to Gallipoli, landing there in September 1915.
By late summer the heavy fighting had all but finished, leaving the Newfoundlanders doing little more than holding the line at Suvla. They were involved in an action in November which earned them their first battle honour, the capture of Caribou Hill (a position on the Kretch Tepe Ridge) that was favoured by Turkish snipers.
The Newfoundland Regiment, part of the 29th Division, was evacuated from Suvla in December 1915 and continued to fight with distinction throughout the Western Front. At Gallipoli 44 of their number died, another 93 had been wounded. By the war's end, more than 6,200 men had served in the regiment. The price was 1,300 of their number who never returned home. Many more returned wounded.
The regiment won many more battle honours, and in 1917 they earned the title "Royal" in recognition of its service and sacrifice during the Great War, the only regiment to be honoured this way by the British.
Whilst there are Caribou memorials in France and Belgium, there is none in Gallipoli, so we all wait eagerly for the unveiling of the Suvla Caribou later in 2021.
Images courtesy of Bill Sellars; Postcard of the Newfoundland Park Memorial, Somme, France.
Note: The other caribou statues are at Gueudecourt, Masnières and Monchy-le-Preux in France and Courtrai in Belgium. The one in Bowring Park (in Newfoundland and Labrador), Canada, was erected later.