Gallipolian Autumn issue (No.141) out soon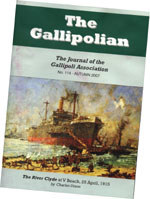 THE AUTUMN 2016 ISSUE OF THE GALLIPOLIAN

The Autumn 2016 issue of The Gallipolian (No. 141) will be published in early August. It contains messages from both the new Chairman and the outgoing Chairman, who is now President of the Association, along with reports on the Anzac / Gallipoli Day ceremonies held this year as well as on the 29th Division Commemoration. Upcoming events covered include the Annual General Meeting, the Autumn Lunch, the Field of Remembrance and Remembrance Sunday, the Association's September Battlefield Tour, and the 2016 Conference.

Also featured are articles on the 1936 visit to Gallipoli by HMAS Sydney, visitors' impressions of Lemnos, an investigation into the authorship of a well-known anonymously-written book, an account of the day that London remembered the Royal Dublin Fusiliers, and a search for a grandfather killed on W Beach. There is also Part 2 of the investigation into the last to leave Anzac, letters from Midshipman Field of HMS Ocean, an evacuation mystery and some more detail on the evacuation of Helles.

There is much else of interest including the usual selection of Book Reviews, 'Information Please', and an account of the May 2016 Battlefield Tour.

 

Bryn Dolan, 20th July 2016

Editor, The Gallipolian

"