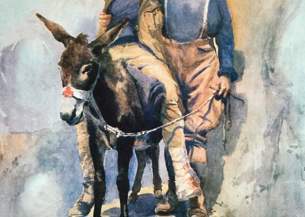 For the seventh year running, the Gallipoli Association has been producing Christmas cards in a growing series of striking images. On offer is the 'Donkey Man'.
Private John Simpson Kirkpatrick was born 6th July 1892 at South Shields, England. He was killed on 19th May 1915 in Shrapnel Valley, near the mouth of Monash Valley, aged 22 years. The painting on the front of the card is reproduced by permission of the Alexander Turnbull Library, Wellington, New Zealand. It is by Horace Moore-Jones and although not of John Simpson Kirkpatrick himself (it is actually 3/258 Private Richard Alexander (Dick) Henderson, New Zealand Medical Corps), it was his symbolic presentation of the man of legend.
10 cards are contained in this pack.