The Gallipoli Association publishes a tri-annual journal. It is available to members and has received consistent praise for the quality of its content. Its contributors are from all backgrounds; relatives of veterans, popular writers on the Great War and Gallipoli, military and political figures and members with particular specialist interests and personal research goals.
---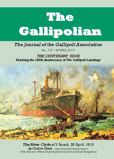 COMPLIMENTARY COPY - THE CENTENARY ISSUE OF 'THE GALLIPOLIAN'
Click on the cover image to open this FREE copy of the Spring 2015 issue of The Gallipolian which commemorates the centenary. If you like this journal please join The Gallipoli Association and unlock a wealth of information on the Gallipoli Campaign.
---
Journal index
Find articles, grouped by subject, from edition no. 1 (1969) to no. 160 (2022).
VIEW THE INDEX (PDF 1.4 MB)
Download the index (right-mouse-click "save link as") to open in Acrobat Reader with bookmarks.
If you have any problems finding a journal or article, please email [email protected].
---
To view the journals you will need a PDF document reader, for example Adobe Reader, installed. This can be downloaded for free from www.adobe.com or by clicking the download button here.
The journal sizes vary between 5MB and 20MB according to page length and size of colour images. The majority of the files are in the range 3 -8 MB. Download speeds will vary, but an average broadband connection will typically acquire a 10MB file in about 3 minutes.
Index
Coming soon...