Event Details
08 May 22 07:00 - 13 May 22 19:00
Tour
Battlefield Tour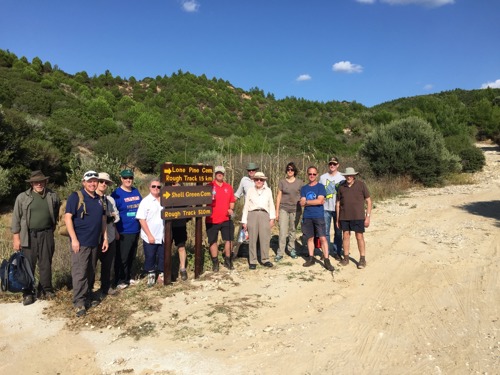 Photograph: Gallipoli Association and Battle Honours group walking via Shell Green to Lone Pine.
Following previous tours of Gallipoli, in conjunction with Battle Honours Ltd, we are pleased to be offering trips for members and friends to visit the Peninsula in the company of fellow enthusiasts and authorities. 
During May, travel restrictions permitting, will see us running concurrent walking and coach tours which will visit all the most important spots of Gallipoli. This comprehensive battlefield tour will not only cover the main areas of the campaign, at a relaxed pace, but also some of the seldom visited spots not offered on other tour itineraries. We believe this tour is second to none, and with all the advantages of like-minded individuals, this intimate group will discover trench remains, old mule tracks, dried up gullies and the quiet beaches of this beautiful Peninsula.
Our tours are led by Gallipoli Association and Guild of Battlefield Guide members.
There are two battlefield tours this year that are running side by side:
·       'Walking Gallipoli' Tour – 8th May 2022
·       'Hidden Gallipoli' Tour – 8th May 2022
Costs:
£1550:00 with flights (£1500:00 for GA Members)
£1350:00 non flight option (£1300:00 for GA Members)  
Walking Gallipoli, led by our historian and author, Stephen Chambers alongside battlefield guide, author and member Clive Harris, will offer a series of walks covering the highlights of the campaign, conducted at a relaxed pace and with scope to visit spots not offered on other tour itineraries. We feel this tour offers the most comprehensive tour available to Gallipoli, as part of a like-minded intimate group to reach seldom visited spots via mule tracks, dried up gullies and quiet beaches. The distances are not excessive, our average day involves around 6 miles over undulating ground but at a pace to suit the needs of the group, if you have any concerns, please feel free to give us a call.
We will stay in a charming Canakkale boutique hotel with well-equipped rooms: A/C, TV, en-suite bathrooms and bar facilities. Bed and Breakfast basis, with packed or cafe lunches included. Evening meals are not included.  
 'Walking Gallipoli' Tour Itinerary
·      8 May 2022: Flights from London to Istanbul; transfer to Gallipoli.
·      9 May 2022: Helles – Visiting the main 29th Division landing beaches, Hunter-Weston Hill, Helles Memorial, Sedd-el-Bahr, Doughty-Wylie VC grave, Gully Ravine and Pink Farm.
·      10 May 2022: Anzac – After a boat cruise around Anzac Cove we visit Beach cemetery, Shrapnel Valley and explore the high ground of Plugges Plateau, Sphinx, Silt Spur, Lone Pine, Johnston's Jolly, 4th Battalion Parade Ground, Courtney, Steele's, Quinn's Post and The Nek.
·      11 May 2022: North Anzac - A beautiful walk in the remote North Anzac area exploring Embarkation Cemetery, Taylor's Gap, Agyhl Dere, Damakjelik Spur, Australia Valley, and Hill 60. In the afternoon we walk from the heights of Chunuk Bair and Sari Bair, along Rhododendron Ridge to Ocean Beach below.
·      12 May 2022: Suvla - Starting at Nibrunesi Point we follow the exploits of Kitchener's New Army Troops exploring Lala Baba and the Salt Lake. We then visit both Chocolate and Green Hills, Scimitar Hill, and walk from Hill 10 following in the footsteps of the 5th Norfolk's.
·      13 May 2022: Return to London via Istanbul
'Hidden Gallipoli' is designed for those who have been to Gallipoli before with us and want to explore new areas such as Kum Kale and Kereves Dere to study the French contribution to the campaign. We will have explore the new walking routes at Anzac where original trenches and tunnels have recently been uncovered from the scrub. At Suvla we will walk Kiretch Tepe and look at the Irish involvement, and also that of both the Yeomanry and 11th Division on W Hills which is a spectacular walk along the heights. Getting in among the valleys of North Anzac are always exciting, here the battleground of General Monash's Australian Brigade and Cox's Indian Brigade are studied along with the Territorial Divisions that held this ground up to the time of the evacuation.
To enquire or to reserve a space, please email: tours@gallipoli-association.org
Photograph: A wrecked 'Horse' Lighter on W Beach, Lancashire Landing.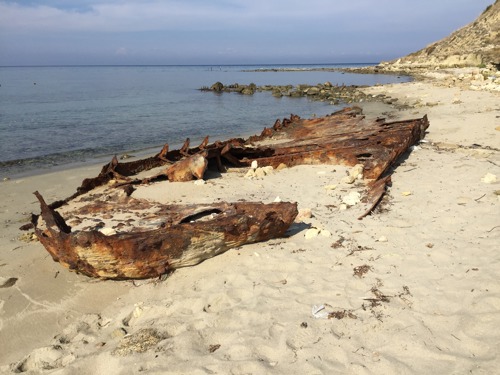 Photograph: A 'Gully Ravine' hero - Second Lieutenant A V Smith VC, the last Victoria Cross to be won on the Peninsula.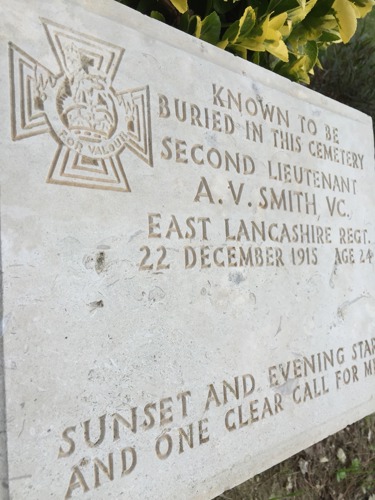 Photograph: Anzac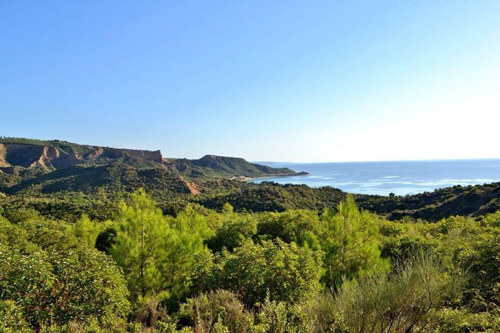 Photograph: Walking Gully Ravine